NEWS
We compared Burna Boy's Spotify numbers to other Coachella artists, here is what we discovered
This year, Coachella's line up features two Nigerian acts – Burna Boy and Mr Eazi
Burna Boy expresses his displeasure with the way his name was listed on the poster
We compare Burna Boy's Spotify numbers to other Coachella artists
On January 3, 2019, Coachella Valley Music and Arts Festival released its lineup.
Headlining the popular annual event, held in Indio, California, are Childish Gambino, Tame Impala and Ariana Grande.
Joining them in April for the first time are Nigerian music stars Damini Ogulu aka Burna Boy and Tosin Ajibade, better known as Mr Eazi.
Reacting to the announcement, the 'Ye' singer appreciated the organisers of the international event for the recognition and also revealed his displeasure with the size of his name on the bill.
Ranting via his Instagram handle in a post that has since been deleted, he described himself as an "AFRICAN GIANT", and called on them to "fix things quick".
"@coachella I really appreciate you. But I don't appreciate the way my name is written so small in your bill. I am an AFRICAN GIANT and will not be reduced to whatever that tiny writing means. Fix things quick please," Burna Boy wrote on his Instagram Story.
His post has made him the number one trend in Lagos state with over 21.4k tweets.
Following his reaction, Business Insider Sub Saharan African has compared Burna Boy to fellow Nigerian artist, Mr Eazi as well as five other international Coachella artists who all have the same font size on the bill.
Here is how he fared on Spotify:
Burna Boy – 893, 409 monthly listeners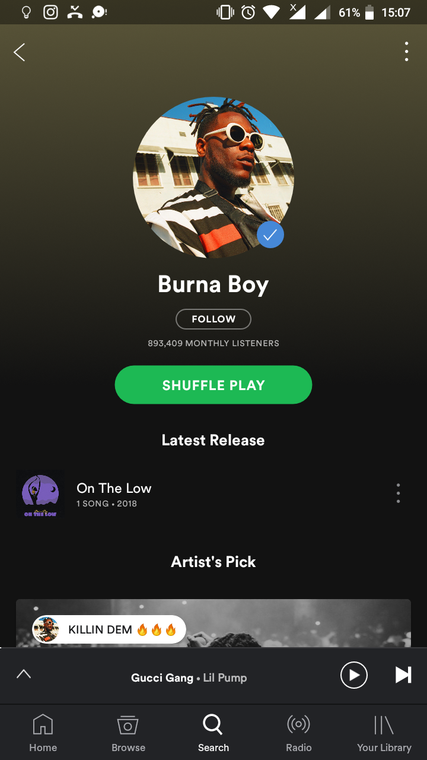 Burna Boy has the least number of monthly listeners on Spotify

Mr Eazi - 2, 684, 405 
Dermot Kennedy - 3,459, 997
Clairo - 2,342,422
Sabrina Claudio - 2,334,979
Jon Hopkins - 1,666,478
Lizzo - 1,021,479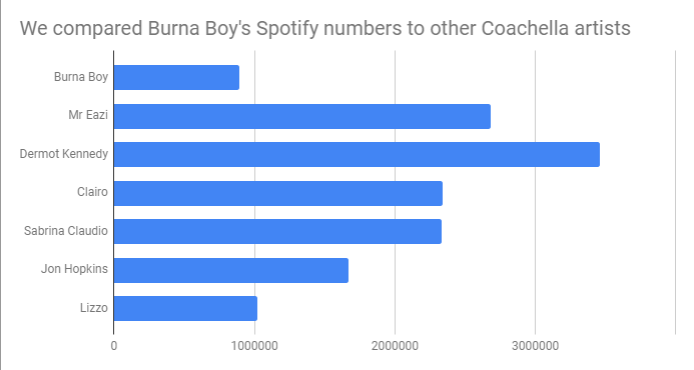 Here is how Burna Boy fared on Spotify

ALSO READ: Adekunle Gold wants to perform at Coachella Festival
Does font size matter?
In 2017, The New Yorker interviewed Paul Tollett, the mastermind behind Coachella, which started in 1999.
According to Tollet, an artist's position and the font size with which their name appears on the poster, as inconsequential as it may seem, are extremely important. They can go as far as influencing what the artists charge for booking fees in the future, he said.
In his words, "We have so many arguments over font sizes [on the poster]. I literally have gone to the mat over one point size. Sounds like a small thing in the great scheme of life. But, as it relates to these bands, it's huge."
So, how are these artists chosen?
Coachella considers three things – social media presence, record sales, and what is the most popular kind of music at the time (e.g pop and Afrobeat).
In the interview with The New Yorker, Tollett recalled how Dutch dance star Martin Garrix's agent used his Instagram presence to fight for Garrix to be on the same line of the 2017 poster as DJ Snake.
 "His socials are four times bigger [than Snake's]," the agent argued. "He is in the top one percent of connected artists to his fan base."
This argument later resulted in Tollett deciding to schedule DJ Snake later than Garrix. 
Regardless of how high or low an artist is placed on the poster, performing at Coachella remains an awesome opportunity.
Headliners get paid as much as $3–4 million while some of smallest acts earn about $10,000 for their appearance.
As Katy Perry tells Billboard, "The lineup always introduces the best of the year for the rest of the year."